Below is a list of services we provide at Brooklyn Plumbing, Heating & A/C. Please feel free to contact us if we can be of service to you.
PLUMBING
After Hours Emergency Service
Install
Water Softeners
Iron Filters
Water Filters
Tankless Water Heaters
Backflow Testing
Pressure Tank
Faucet Building and Replacement
Repipes
Sump Pumps
Service
HEATING & AIR CONDITIONING
After Hours Emergency Service
Sheet Metal Fabricating
Repair
Installation
Maintenance
Boiler Repair & Installation
Indoor Air Quality
Hot Water Heater Repair & Installation
Residential
Commercial
Geothermal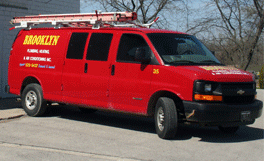 We excel in helping you solve your plumbing and heating problems and strive to be the only plumbing and HVAC company you will ever need for quick and professional service. 100% customer satisfaction is our goal!
Feel free to read what some of our wonderful clients have had to say about our service and products. See our products and special tips page for more!
Dear Sirs,
"Thank you for the speedy repairs on the furnace. It's sure nice when someone "really cares" I will surely advertise the good service & it works."
Thanks,
– Apal